Photos by Danica Anne Nuestro
I think if there's one thing electronic fans of all genres can agree on, it's this: We have been waiting for this day for so, so long. At long last, Nurture is here. Along with this newest album comes the return of Second Sky Music Festival, Porter Robinson's artist-curated festival in partnership with Goldenvoice set for September 18 and 19 in Oakland, CA.
About Porter Robinson's 2nd Album Nurture
On April 23, 2021, Grammy-nominated artist and producer Porter Robinson finally released his long-awaited sophomore album Nurture. Nurture comes seven years after Porter released his first and critically-acclaimed Worlds album in 2014. Initially, he announced his second studio album in 2020. However, he delayed the release due to the ongoing COVID-19 pandemic. Fortunately, Porter used the time during the pandemic shutdowns to make final changes to the album. One by one, each single was released, giving audiences a closer insight of the album's overarching theme. While Worlds expresses Porter's childhood and teenage nostalgia escaping reality through digital landscapes, Nurture embodies maturity and growth. This album presents themes of finding the beauty in the everyday, acknowledging the challenges reality presents and facing them head on rather than running away from it.
The Return of Second Sky 2021
Now that Nurture is out, the 2-day music festival Second Sky returns after over a year of COVID-19 lockdowns and music industry shutdowns. This year's event will now be held at the Oakland Arena Grounds instead of César Chávez Park. The new venue announcement comes after road construction posing a hazardous situation for its attendees. In addition to the venue change, Second Sky will also be requiring proof of COVID-19 vaccinations or proof of negative COVID-19 test 72 hours prior to the event. This requirement comes days after Goldenvoice and AEG's announcement regarding their new COVID-19 health and safety protocols for all their venues and festivals.
Second Sky 2021 Lineup
What's unique to Second Sky is that these are artists that Porter Robinson is personally a fan of. Porter's intention when creating Second Sky was to introduce his fans to all of his favorite artists and create an environment to share this music with. As of right now, all artists slated for Second Sky 2021 remain on the lineup for both days. This year's lineup includes live performances by Madeon, Jai Wolf and Wavedash; in addition to Toro Y Moi, Jon Hopkins, Jacob Collier, KNOWER and Jyocho. Check out the full lineup below! (Note: The Lineup included below lists the old venue at César Chávez Park).
Getting to Know the Second Sky 2021 Artists
Jacob Collier
One artist announcement that threw me off completely was Jacob Collier. This British musician and producer is known for amazing acapella renditions and harmonizing artist tracks on Youtube. One of my personal favorites is his rendition of Imogen Heap's "Hide and Seek." "Hide and Seek" is such an iconic track and he did such an amazing job adding complex harmonizations unique to his musical style (Imogen Heap actually tweeted at Jacob as well, noticing his work).
Though I wasn't expecting Jacob Collier to be added, I'm super excited to see him live. He's known to interact with his audiences during his live performances so hopefully we'll be able to come September! If you're unfamiliar with Jacob Collier, Porter actually hosted an IGTV convo with Jacob immediately after his announcement to Second Sky. They chat about the inaugural Second Sky event in 2019, the festival vibe, the fans, and so much more.
KNOWER
KNOWER, comprised of Louis Cole and Genevieve Artadi, was announced for Second Sky 2021 the following day. For anyone unfamiliar with the duo, KNOWER is an independent electronic group with a unique, indie jazz-funk sound. They met each other in 2009 and released four albums together. To be honest I'm not as familiar with KNOWER compared to other artists on the lineup. However, that's the beauty of Second Sky—being introduced to new music and talented artists. After checking them out I really enjoyed "Overtime," from their 2016 album Life. Check out some other tracks below and get familiar with their unique sound!
JYOCHO
Jyocho was the next artist announced for Second Sky, announced the same day as KNOWER. For those not familiar, Jyocho was a project created by former Uchu Conbini guitarist Daijiro Nakagawa. Fans loved the Uchu Conbini "math-pop" sound so this new project by Daijiro took on the elements of "math-pop" and created more "mature and intricately beautiful" compositions with its albums. This progressive pop band performed only a few times in North America, so this is a set you won't want to miss.
Jon Hopkins
Another unexpected artist addition is none other than Jon Hopkins. Jon Hopkins worked with major artists including Coldplay and Imogen Heap. He's released five electronic albums and created scores for several films. To name a few, he's created the film scores for Peter Jackson's The Lovely Bones and Gareth Edwards' Monsters. Hopkins only has two performances announced in the US—one at Second Sky and one at the Greek Theatre in Los Angeles in May 2022. If I were you, I'd take advantage of this opportunity to catch his only 2021 US performance.
Toro Y Moi
I'm actually so incredibly excited to see Toro Y Moi (Chaz Bear) on this lineup. I have been a long time fan since 2010 after hearing the track "Talamak." Surprisingly enough, I have yet to see Chaz perform in the 11 years being a fan. Since his debut album Causers of This, he's released over five albums and four EPs. Additionally Chaz collaborated with various artists, including Tyler, the Creator and Hodgy Beats for "French!" as well as Disclosure and Eliza Doolittle for "You & Me."
Jai Wolf (TCTL Live)
It's no question that Sajeeb Saha, or Jai Wolf, is a huge fan of Porter. So to be part of his curated lineup for Second Sky? It must be an absolute dream for him. Additionally, Jai Wolf announced that this set will be one of the only festival performances for The Cure To Loneliness: Live.
This album released back in 2019 before the COVID-19 pandemic and music industry shutdowns. The initial plan, however, was to tour in 2020 as part of the 1-Year Album Release Anniversary tour. I've been anticipating this show for so long, so I am incredibly excited to see the visual production and live edits all put together. If you haven't listened to The Cure to Loneliness yet, I linked it below to help prepare you for the feels.
Wavedash (WFT Live)
Another live debut to look out for is from Wavedash. They only had one EP release titled Opening Ceremony in January 2019 and several singles through GUD Vibrations, OWSLA and Mad Decent. This year, they released their first studio album World Famous Tour. Their WFT_Live debut will be at this year's Second Sky, so this is a must-see performance from the trio. I remember passing by their set at the stereoBLOOM stage at EDC 2019 and having so much fun, so I can attest that their performances are nothing short of amazing.
Madeon (Good Faith Live)
At the inaugural Second Sky Music Festival in 2019, Madeon gave us a taste of his Good Faith era with a DJ set. So for this year's Second Sky, Madeon will finally be performing Good Faith: Live. It's been quite some time since his last Live Set, so we may see some edits or additions, including "The Prince." I'm personally anticipating for a longer rendition of his unreleased track "Love You Back," but I'm excited nonetheless to see another Good Faith live performance.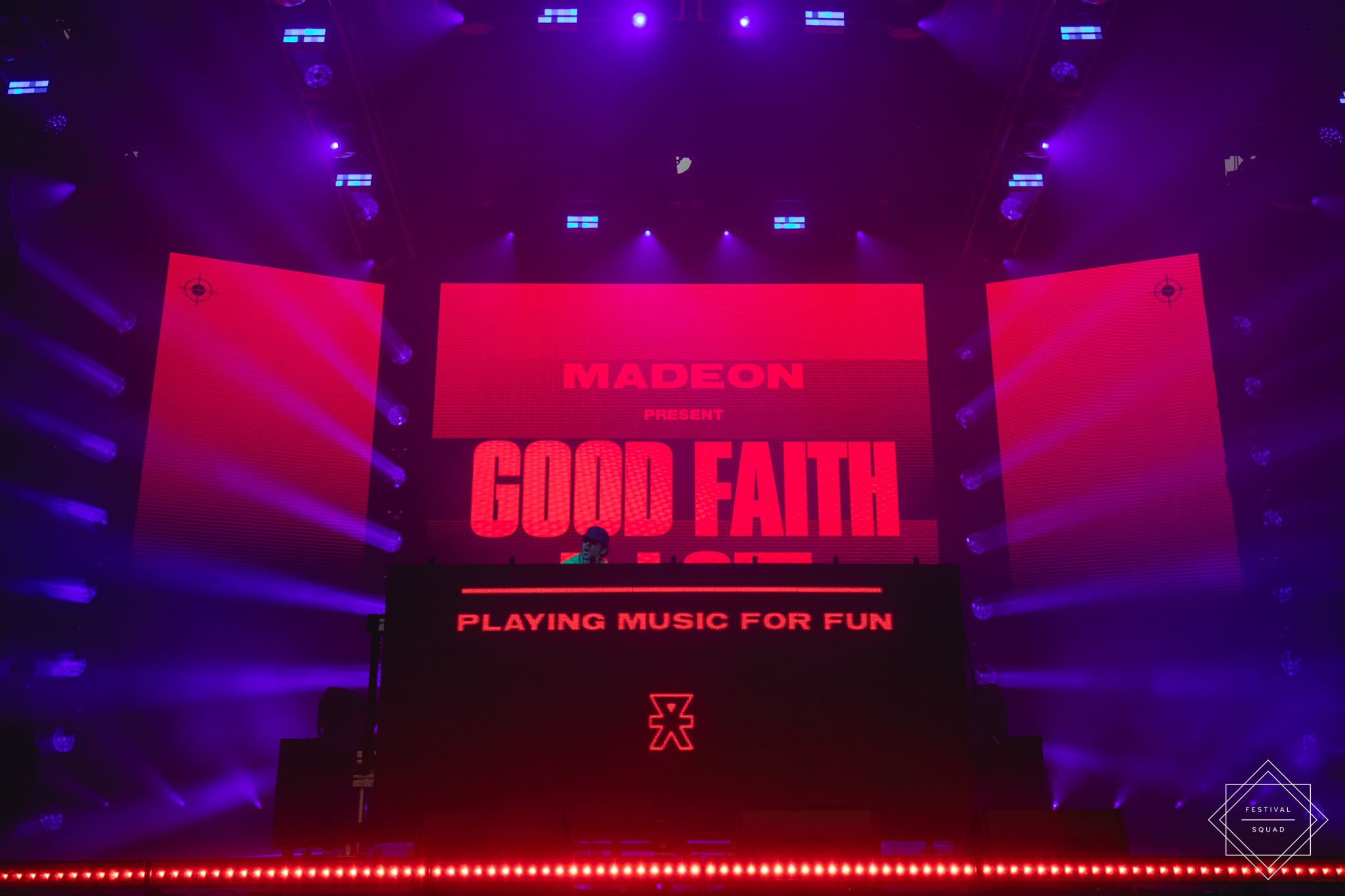 Porter Robinson (Live)
Of course, what's a Second Sky lineup without Porter Robinson himself? Porter is diligently working hard on the FIRST in-person performance for Nurture: Live. For those that tuned in to his virtual online festival Secret Sky, fans were able to get a taste of the live show. The in-person set will be slightly different from what was premiered online due to large-scale production differences and stage limitations, but if you want to prepare for what to expect at Second Sky 2021, you can view his live set below.
Tickets + More Info
Health and Safety
As mentioned, Second Sky 2021 requires proof of vaccination or proof of a negative COVID-19 test taken 72 hours before the event.
For vaccinations, accepted documents to enter the festival include a physical copy of the COVID-19 vaccination card issued by the CDC, or a digital copy or image of such card. Be sure to have copies of both sides of the card and have a government issued photo ID that matches the card.
For COVID-19 tests, Second Sky accepts negative molecular, PCR or antigen tests administered by official testing centers. Home testing kits will not be accepted. To be sure you have a test result no more than 72 hours before you enter, we've included the dates here: To attend on Saturday 9/18, obtain a test on Wednesday 9/15. To attend on Sunday, obtain a test on Thursday, 9/16.
For more information, please visit the Health and Safety section on the Second Sky website.
Tickets
Second Sky 2021 is officially sold out as of May 7, but they partnered with Lyte as the official ticket exchange for this year's festival. To visit the Official Waitlist and Exchange, visit https://www.secondskyfest.com/tickets.
We're only less than a month away til the 2-day event, so get ready for the 2nd ever Second Sky Music Festival!