If you thought Phase one of the Ultra line up was hot grab your oven mitts because they just turned up the heat another notch. A day after a judge struck down the lawsuit against the festival, Ultra Music Festival dropped its phase two line up. It included many welcome names and impressive B2B additions. Take a minute to scroll and take in not only the Phase 2 line up but also the which days and stages each artist will be playing at-

Overwhelmed? Yes, us too. If you didn't notice Dog Blood, Adam Beyer vs Cirez D, Black Coffee, Gigantic NGHTMRE (Big Gigantic + NGHTMRE), Tom Morello, k?d, NERO, SPOR, Peekaboo, Whipped Cream, Space Jesus, and many more were added to an already pretty heavily weighted line up. The main stage will see Marshmello, Martin Garrix, and The Chainsmokers close it out each night and the live stage will see more action then ever before. The best part? There are still some blurred out names which means there will be at least one more lineup drop before the festival. And who knows what other surprises are in store after last year when Swedish House Mafia was announced the day of that they'd be reuniting on stage to close out the festival.
This major announcement comes just one day after the festival experienced a major win in court. Which is a welcomed change given the crazy journey the festival has had in terms of where to host. In case you've been living under a rock, last year the festival was told they were not allowed to return to Bayfront Park, their home in Miami for many years, after the city council voted against the contract. The festival then announced it would be moving to Virginia Key in Miami. However, it's the same weekend that Rapture Music Festival had planned to have their event there as well. Rapture filed a lawsuit against Ultra, the City of Miami and the Virginia Key Beach Historic Trust. It stated that the three were participating in monopolistic business practices and violating the Sherman Act. On Monday, a judge found that the claim had not substantially demonstrated any wrong doing. Rapture has until February 13th to amend their lawsuit. More than likely they will have to search for a new venue and Ultra will continue to make plans for it's new home in Virginia Key.
Part of that new home involves finding new ways to get guests to the venue. Organizers announced last week that in addition to free shuttles, there will also be a ferry leaving from the Bayside Marketplace, giving attendees more ways than ever to get to the festival. While the event is undergoing some major changes with the new venue, it seems to be doing everything in its power to show the world that it's still going to have its biggest and best year ever.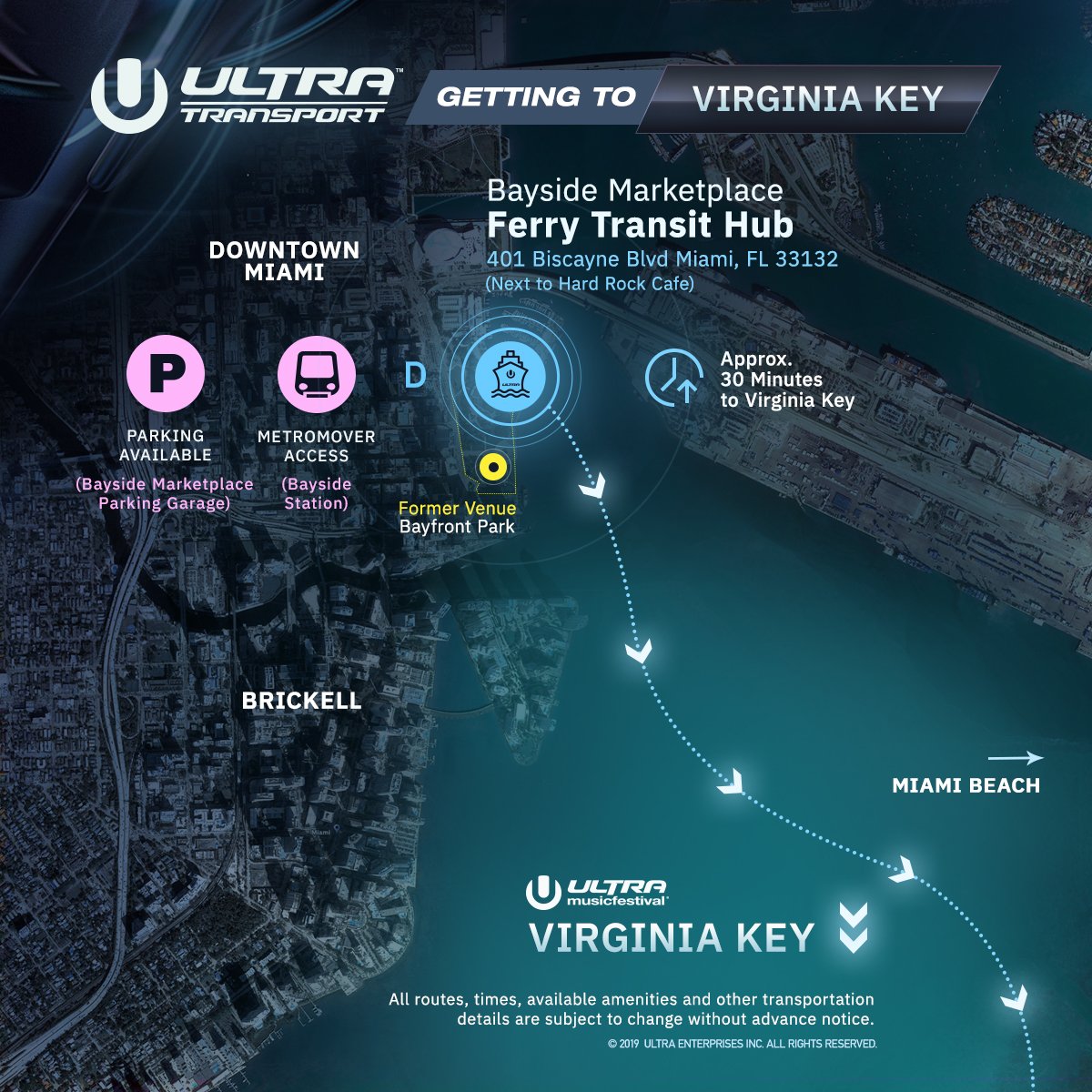 Ultra Music Festival will take place March 29th to 31st in Virginia Key in Miami. Buy your tickets here!