Photos provided by Insomniac Events Northwest
From the moment we arrived at the Gorge in the fall of 2017, it was clear we were in the midst of something special. For a lot of people, a trip out to the Gorge is a staple of their summer, whether it be for a multi-day, genre specific event like Beyond Wonderland or Bass Canyon, or one of the countless featured artists on the season's calendar. The allure is undeniable – just isolated enough to disconnect, incredible natural acoustics, the campground experience, and obviously, that breathtaking view. It's a special place to be sure, and one deserving of a special event.
And ABGT 250 was certainly that. No doubt, Above & Beyond belongs at the Gorge—bringing together fans from across the globe with their sincere messaging of togetherness and love, and the distinctive Anjuna sound that seems to appeal to just about everyone (even dedicated bassheads). 250 managed to bottle all that sentiment and infused it into a weekend, giving attention to even the smallest of details – such as the day two Anjunadeep show ending to perfectly time the walk back to the campsites for the food truck after party. The experience was designed from start to finish to be a thoughtful, intentional, community gathering; something they continued to build upon when the format was revisited in 2019 as the ABGT Weekender.
Part of that included expanding the list of activities for guests to participate in and giving everyone ample opportunities to meet and interact with each other. ABGT 250 featured a screening of Above & Beyond's acoustic performance at the Hollywood Bowl and morning yoga led by Elena Brower; 2019 incorporated a silent disco, artist Q&As, and a ping pong tournament; and the upcoming iteration of the Weekender looks to take things even further—bringing in a barbershop quartet, dance fitness classes, activities led by the Instigators and plenty of music to explore across the various side stages.
The Deets
The 2022 Edition of Above & Beyond's Weekender Event takes place July 22-24 at The Gorge Amphitheater in Washington State. Tickets are on the verge of selling out but still available for purchase here. Representing Festival Squad at this event will be Erik and Karen: Erik is a seasoned Anjuna Family Member and Karen (the aforementioned basshead) was converted at the 2019 edition of the Weekender.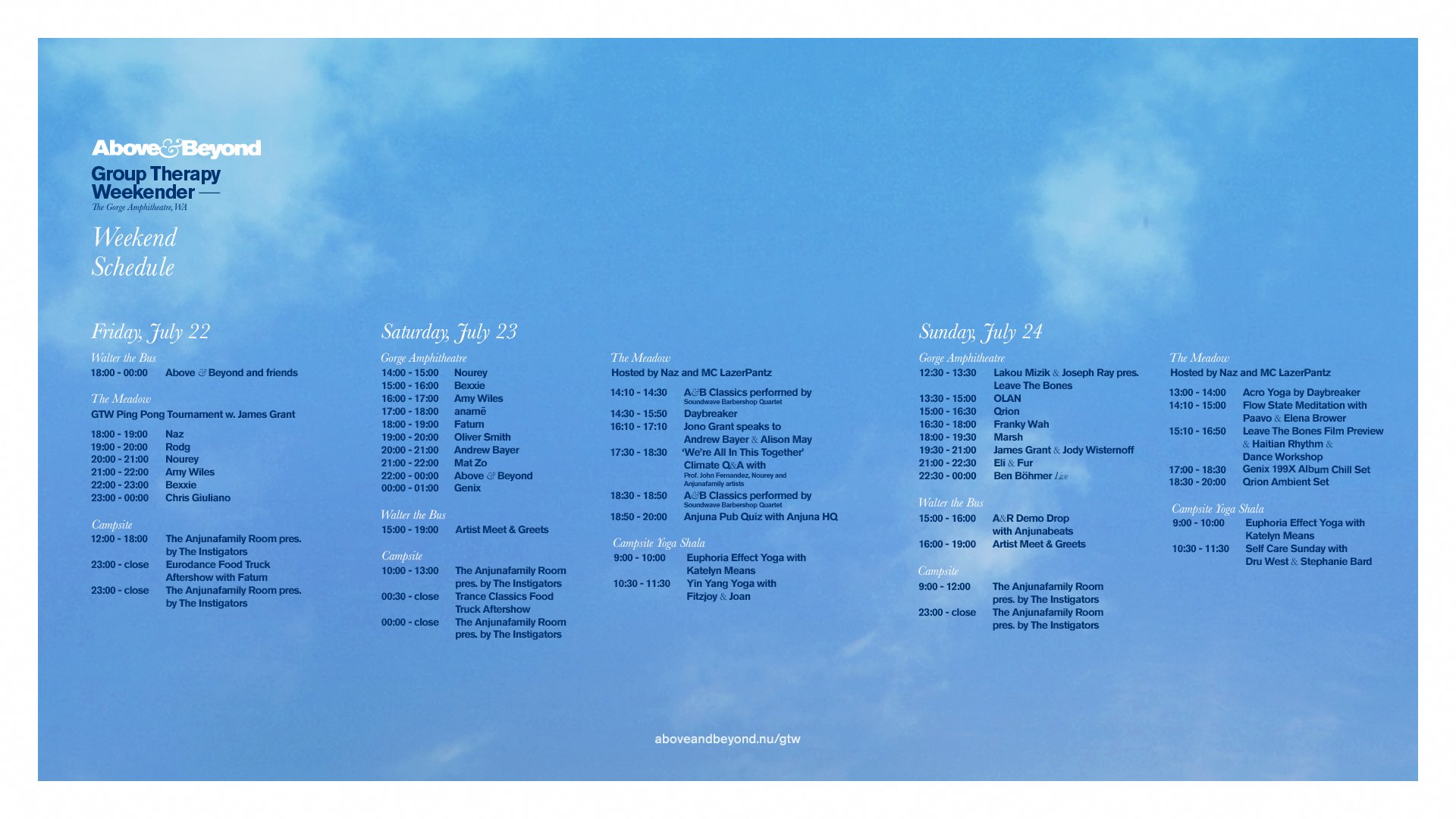 There is obviously plenty to do, so familiarize yourself with the calendar of events and take a look below for our personal suggestions of where you'll likely find Festival Squad throughout the Weekender. If you've never been to the Gorge before or maybe you're just looking for some extra hints, I highly recommend reading our know-before-you-go article for Beyond Wonderland. It's full of a bunch of helpful information and all the tips are still fairly applicable. This venue is not for the ill-prepared so please make sure you educate yourself if this is your first trip.
Erik's Top Sets/Activities For The Weekend
Amy Wiles (Friday, 9pm – 10pm)
There is a lot of really incredible music on the undercard. Nourey, Bexxie, Naz to name just a few—all talented artists featured on Anjunabeats Rising and worth keeping your eyes on. This Amy Wiles' AnjunaKitchen set from 2020 is one I find I keep coming back to. Wonderful set, outstanding track selection, perfect vibes to bring to the Weekender.

Eurodance Food Truck Aftershow with Fatum (Friday, 11pm – ???)
I've long been a huge fan of anything Europop. If it's catchy, if it's cheesy, I'm in. "Every Time We Touch" is legitimately one of my favorite songs. As much respect I have for music that evokes a deeper meaning, I also see a huge place for music that is just supposed to be fun. Let's just get silly for a bit.
Mat Zo (Saturday, 9pm – 10pm)
You never really know what kind of set you're going to get from Mat Zo. I'd be more than okay if we get a similar flavor to his ABGT 100 appearance at Madison Square Garden: huge variety in genres, lots of surprises, fun mashups—an all around highly replayable set.

The Anjunafamily Room pres. by The Instigators (all weekend long)
I reached out to The Instigators to see what we should expect from them over the weekend, and they said they have lots of activities in store. Look out for their complimentary beauty bar with braiding, face painting and [biodegradable] glitter; movement workshops; late night DJs at the lounge; and 'Crafter Hours.' Additionally, legendary life of the party LazerPantz will be hosting The Meadow Stage, and they'll have a roaming performer troupe at the front gates. These guys are wild. Don't miss them!
Karen's Top Sets/Activities For The Weekend
Friday's Pre-Party / Ping Pong Tournament
I'm hoping for a silent disco again for our Pre-Party. In 2019 it was the perfect way to kick of the weekend. There's something novel and interesting about silent discos: it's fun to switch channels when you see people on a different channel getting excited. To pair it with ping pong is bloody brilliant. It was such jolly good fun to play ping pong while Jono is playing music for a pretty small crowd—does it get better than that? Never have I ever seen this winning combination anywhere else since the 2019 Weekender.
Yoga
Yoga at festivals hits differently; perhaps it's because it's outdoors or because you've danced into the wee hours of the morning. Maybe it's because you know you're surrounded by like-minded, kind, wonderful souls, which is a recurring theme at festivals in general. As tired as I am at festivals, I always try and make as many yoga classes as possible. The amount of love and positivity that surrounds you as you nourish your body and spirit is overwhelming. I've been moved to tears before a few times, truth be told.
There are a few classes to choose from throughout the weekend:
Yoga in the campground:
Saturday 9:00am – 10:00am Euphoria Effect Yoga with Katelyn Means
Saturday 10:30am – 11:30am Yin Yang Yoga with Fitzjoy & Joan
Sunday 9:00am – 10:00am Euphoria Effect Yoga with Katelyn Means
Sunday 10:30am – 11:30am Self Care Sunday with Dru West & Stephanie Bard
Yoga at The Meadow:
Sunday 1:00pm – 2:00pm Acro Yoga by Daybreaker – (who wants to be my partner?)
Ben Böhmer Live (Sunday, 10:30pm – 12am)
I have yet the a chance to see Ben Böhmer perform and can't think of a better first time than the Gorge. His Cercle set from a hot air balloon above Cappadocia says more than I ever could. The German producer doesn't often make it to the United States, so as soon as I saw his name on the lineup, I was sold. As a lover of bass music, I'll admit a lot of house and trance can be hard for me sometimes. I'm accustomed to a more high intensity BPM with lots of builds and drops. Ben Böhmer's mixes have enough variety (to my untrained ear) to satiate my cravings. To say I'm excited to see him is an understatement!
Eli & Fur (Sunday, 9:00 pm – 10:30 pm)
We love love love women in the electronic music scene! Eli & Fur possess ethereal voices that weave through their music effortlessly. To be producers and vocalists is an impressive feat that only a few can claim. Hailing from London, the dynamic duo are at the forefront of the international house/techno scene. Their sound is unique thanks to their haunting voices, cacophony of synths and undulating basslines. The combination yields hypnotizing, enigmatic and dancey songs. I've not seen them live and am very excited they're playing this weekend.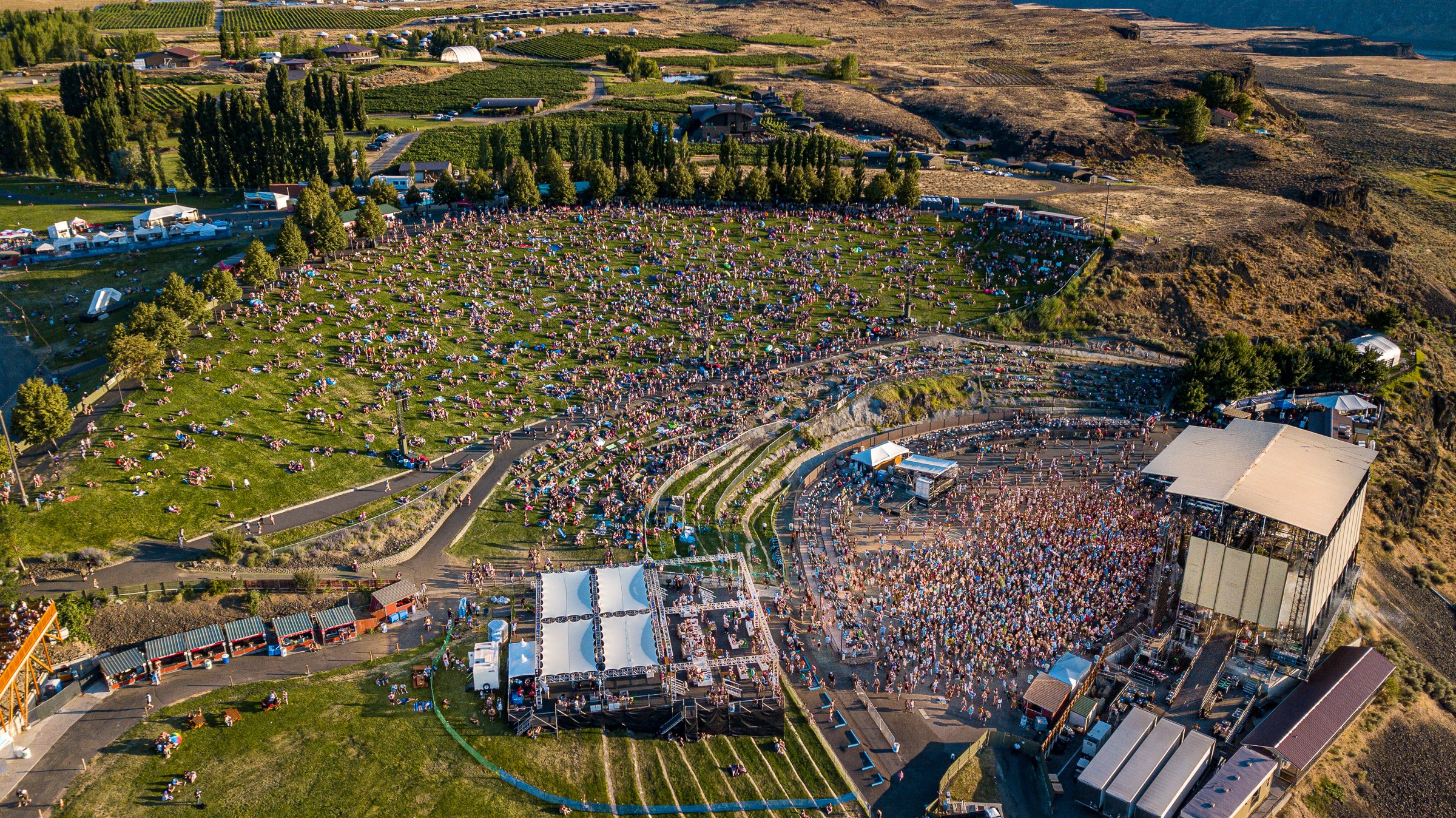 We hope to see you at the Gorge for the second installment of Above & Beyond's Group Therapy – Weekender Event!