Featured photo by Juliana Bernstein for Insomniac Events
After taking a break in 2019, Okeechobee Music and Arts Festival was resurrected in Sunshine Grove, Florida March 5-8. This time around, the festival was run by Insomniac, and everyone was wondering what changes were in store as they piled into the campgrounds for the first time. To no surprise, the festival returned with quite the splash. Okee was bigger and better than ever, but still maintained the same old spirit that loyal attendees were hoping for.
Be Here Now
Spoken by Ram Dass, Okeechobee followed one simple, yet meaningful principle: be here now. Conveniently, these are also the names of the three main stages. Knowing this, I went into the festival fully prepared to unplug from the busyness of normal day-to-day responsibilities and made it a goal to completely immerse myself in the present moment. I flipped a switch, forgetting about group chat notifications and instead truly enjoying the company of the people I was with, the music, and the gorgeous location.
Day 1
Getting into the campsites was organized and went off without a hitch. After setting up and staking down our tents and canopy for the weekend, we headed out to get familiar with the layout of the fest and do a little exploring. (Side note: a good pair of shoes is a must for all the walking you'll be doing here.)
The first stop was Chobeewobee Village. With food trucks ranging from acai bowls to loaded fries, vendors lined up selling goodies of all sorts, and a general store for any necessities, this was the center of the festival, making it a great place to meet up with friends or just to lounge at in a hammock. They also held daily activities here such as yoga and sound baths.
Next up? Aquachobee for the Bassrush opening party. Right by the lake, this intimate beach stage was the perfect backdrop for those vibrant Florida sunsets. The ferris wheel overlooking it all was just the cherry on top. Toes in the sand, everyone danced like there was no tomorrow to Supertask, Huxley Anne, Yheti as he played out tracks from his newest The Party Has Changed LP, Ivy Lab, and finally Caspa.
Afterwards, attendees made their way over to watch Australian trio Rufus du Sol grace the "Be" stage. What a way to kick off the weekend.
Day 2
With all six stages officially open, day two exemplified the diversity that Okeechobee is known and loved for. The crowd sang along to Crooked Colours and got funky with Big Gigantic before Bassnectar blew everyone away with his first set of the decade. And really, how many people can say they've seen Bassnectar while a rocket launches in the distance?
For the late night owls, the Incendia stage kept it (literally) hot until the early hours of the morning, or you could groove to some techno as the sun came up at Jungle 51.
Day 3
Half the fun of music festivals is never knowing what you're going to come across at any given time. Whether it's a drag show, stand up comedy act, or interactive art installation, the opportunities are endless. On day three, it just so happened to be LSDream guiding a 300-person cap meditative sound bath set at the Yogachobee tent. Partnered with Silent Savasana, fans laid down, closed their eyes, and let his healing music do the rest. It's not very often you get to meditate to one of your favorite artists in a live setting, but you can listen to it below to get a taste of what it was like.
Sublime with Rome and Bob Moses carried the good energy later into the evening. Meanwhile, the "Here" stage was an experimental bass safe haven with Mersiv, LSDream, G Jones, and Tipper to wrap things up.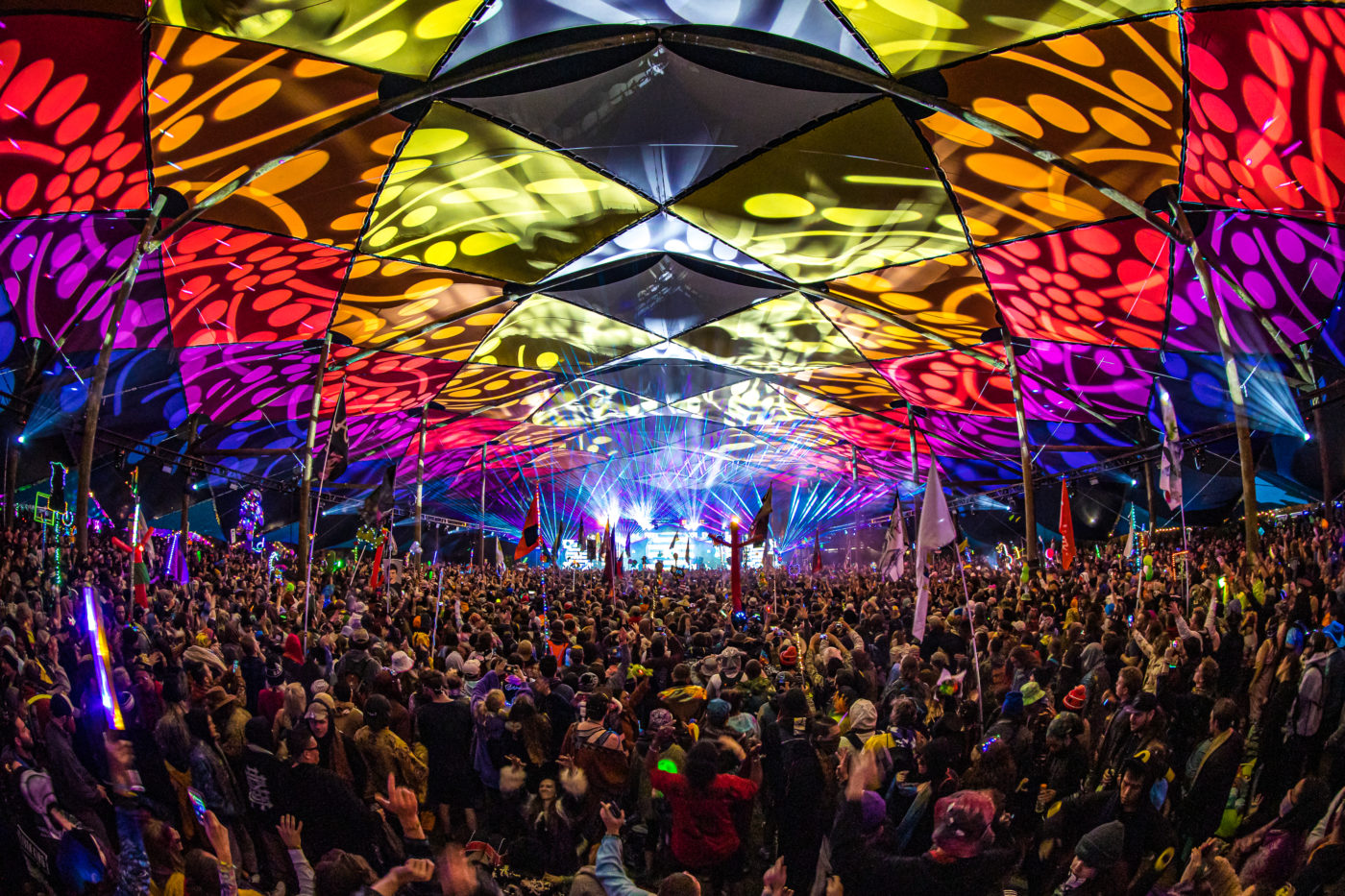 Day 4
The last day of a camping festival is always bittersweet. You don't want it to be over, but you're definitely ready for your own bed and a good shower. Finishing strong, the highlights of day four were CharlestheFirst, GRiZ, a euphoric Glass Animals set under the beaming full moon, Super Future b2b Wreckno, and tiedye ky closing out the night. It was the perfect end to a weekend full of fun and sun in the Grove.
In the morning, everyone packed up their sites and said their goodbyes to their newfound friends and neighbors, making sure to exchange contact info. Looking back, Okeechobee was a profoundly special experience we all shared. Is it too soon to say we're already missing it?
Although there's no official word yet if Okeechobee will be returning in 2021, we're hopeful that it does. Stay tuned to the official Insomniac and Okeechobee pages to be in the know for any future announcements!