Written by: Amanda Cosenza, Kyle DePriest, Taylor Regulski
Cover photos by: Don Idio

It's that time of the year when all dance music lovers travel to the party city of the U.S. The biggest names in EDM will all be in Miami and we'll be honest, anything can happen. Whether you're attending the conference or just there to party with your besties there are some events you can't miss.
What is Miami Music Week?
"Like two different but complimentary notes struck from deep within the soul of the same minor chord, the venues reverberate together loudly throughout every corner of Miami in poetic harmony. Those listening hear the undeniable pulse that emits from the beating heart of Miami's underground, a vibration that over time has shaken the earth down to its core drawing connoisseurs of electronic dance music like hungry moths to a flame" (Originally published in DJ Mag Latino America).
Miami Music Week (MMW) officially began in 2011 but for over four decades, Miami and its music venues have been host to a variety of day and night parties. MMW 2019 is exactly 2 weeks away and there are still parties being announced. We've done the hard work for you and sifted through the best of the best events coming to the 305. Here are our top 5 must-attend events happening during MMW.
Dimitri Vegas & Like Mike – Wednesday, March 27
Kick off your MMW with Smash The House artists Dimitri Vegas & Like Mike. This will be the only Miami & US appearance by the Belgian/Greek duo this year. If you haven't seen the artists before GO! You can expect the duo to play their latest hit Selfish featuring vocalist Era Istrefi as well as endless amounts of IDs. These two bring fire, bass, and a massive dance party every time they perform and this event is sure to include that with some Miami spice.
The event is slated to take place at SLS South Beach from noon until 2AM. Supporting artists have yet to be announced but, could include other Smash the House artists Blasterjaxx, Bassjackers, Wolfpack, Chuckie, and or Sandro Silva. Regardless of what other friends come out the location, environment, and music should be enough to make you want to go. Remember this is Miami Music Week, anything and everything can happen!
If you want to attend you must be 21+ to purchase tickets or tables. Purchase your ticket here .Limited tickets and tables remain. If you sleep on the event and miss getting tickets you can still travel internationally and see Dimitri Vegas & Like Mike in Ibiza or Lollapalooza Brazil & Chile.
RVDIOVCTIVE MIAMI by: TECHYES & NV'd Records- Thursday, March 28th
The party is hosted by TECHYES and NV'D Records, a private production company from North Carolina that has been receiving a lot of attention lately. Recently their private Envy'd Lounge has been put on the map with intimate shows by legends like Green Velvet. Known for curating one of a kind, intimate events, NV'D records takes its talents to Miami Music Week in partnership with TECHYES to present RVDIOCTIVE.
Join Chris Lake with Special Guest Justin Martin on Thursday, March 28th from 12pm-11pm. You can also enjoy two very special back to back sets from Wax Motif b2b Codes and Golf Clap b2b Dillon Nathaniel. In addition to some fantastic headlining acts, the undercard is pretty solid as well featuring over 15 artists including Andy Gresh, Brox, Charles Meyer, Devon James, Evan Rich, Faren Strnad, Gateo, James Ellington, Love & Logic, Max Sprauer, Mona Black, Sumkind, Warung, Westend, Will OB, and Zendlo.
Don't sleep on this event and buy your tickets today.
Brownies & Lemonade – Thursday, March 28
Dogblood (Skrillex x Boys Noize) returns from their hiatus and they're coming back with a BANG! Thursday night you will not want to miss this heavy hitter line up stacked with multiple B2B sets all night long.
The Mana Wynwood Warehouse is going to be transformed into a dubstep lovers paradise with 1788-L b2b Blanke kicking off the night. Whethan and Cray are slated to also go b2b but with mystery guests. We can only imagine who will be filling in these blanks, but it's sure to have dubstep lovers going wild. What So Not will be the only one mixing solo on the lineup. Despite not going b2b, his performance will be loud, bass heavy, and get your head banging.
A-Trak b2b Anna Lunoe will be closing out the night before the return of Dog Blood. These 4 seasoned DJs are sure to bring all their top dance hits as well as some surprise IDs. Anything is bound to happen at this event with the all star lineup and surprise guests.
Don't forget to buy your tickets (if you're 18+) here. You won't want to miss the return of Dog Blood, specially made brownies, exclusive gear, and art activations. If you can't swing getting tickets you still have a chance to see Dog Blood at either Buku or Ultra Miami.
Jack Back and Friends – Thursday, March 28th
Basement Miami is a club unlike any other. Designed by the legendary Ian Schrager of Studio 54, it is a micro-club complete with a bowling alley and skating rink. What makes it unique is the 2,000 square foot ice skating rink where guests can enjoy pulsating beats and an ever-changing light show while they skate around. In addition to the club room where everyone can dance they can also enjoy the state of the art sound system at the bowling alley. On Thursday, March 28th attendees can enjoy this unique venue and listen to the sounds of Jack Back and Friends. The event will feature Claptone, MK, Jack Back (obviously), Amtrac, and Nicky Elisabeth. Tickets can be found here.
Pryda – Thursday, March 28th
Eric Prydz, now LA-based, is a man of many talents. At Ultra Music Festival he will be participating in a rare back to back with Adam Beyer under his alter ego Cirez D. This summer at Tomorrowland he announced that he will be premiering his new Holosphere show. He has not put out new music officially since 2016 but he has not slowed down with his live performances, playing to sold-out crowds all around the world. So it was no surprise when he announced his MMW show, PRYDA, at Wynwood Factory on Thursday, March 28th, that it sold out almost immediately.
Dirtybird Players Miami – Friday, March 29
Claude VonStroke and all the Dirtybird Players will be taking over Club Space Miami Friday, March 29th at 11pm until Saturday, March 30th at 5pm. Yes, you read that correctly – from the late hours of the night to the wee hours of the morning all the way into the early afternoon. Wear a pair of comfortable shoes and be ready for all the house music you could ever want as some of the most popular DJs and producers absolutely rock Miami for over 12 hours.
So far they have announced that on the Terrace from 11 pm- TBD will be Ardalan, Bruno Furlan, Christian Martin, Claude VonStroke, DJ Glen, Doorly, Eddy M, Eli Brown, Joeski, Justin Martin, Rebuke, Sacha Robotti, Shiba San, Steve Darko, VNSSA, Volkoder and Walker & Royce. In the Loft from 11pm-8am will be Gene Farris, J.Phlip, Kill Frenzy, Lubelski, Marc Houle (Live), Mikey Lion, Tim Baresko, Weiss, Worthy, Wyatt Marshall, and ZDS.
Don't miss out on this epic Dirtybird Takeover of Club Space and buy your tickets now. 
Dada Life presents the Magnificent Rave Spa – Saturday, March 30
No Rules but the rules of Dada. Be ready for some R&R (Raging & Raving) at the Spa with the one and only Dada Life. Head over to Miami Beach's Shore Club where the party begins at 1pm. Don't worry about dressing to impress for this event, it's a spa and this is the opportunity to drink and unwind.
Dada Life is joined by a few big names and upcoming electronic DJs who are sure to help sooth your soul. Some names you may or may not recognize are Dave Sol, Tails, Riggi & Piros, and Black Caviar. Each of these artists bring a unique sound and have recently gained more popularity within the electronic music scene. Respectively, they have released top hits with Unomas, Graves, Dzeko, and Blackway.
The R&R will continue to be supported by big names Felix Cartal, Jack Beats, and Nitti Gritti. With the mix of house styles from electro to progressive to big room the night will be lit. We almost forgot to mention there's a mystery special guest slated to perform. Who could it be? Previous surprise Dada guests have included Showtek, Steve Aoki, and A-Trak. To say the least, expect anyone!
Don't miss the opportunity to go bananas and relax at Dada's only Miami appearance during MMW. Tickets are available for 21+ only here.
Elrow – Saturday, March 30th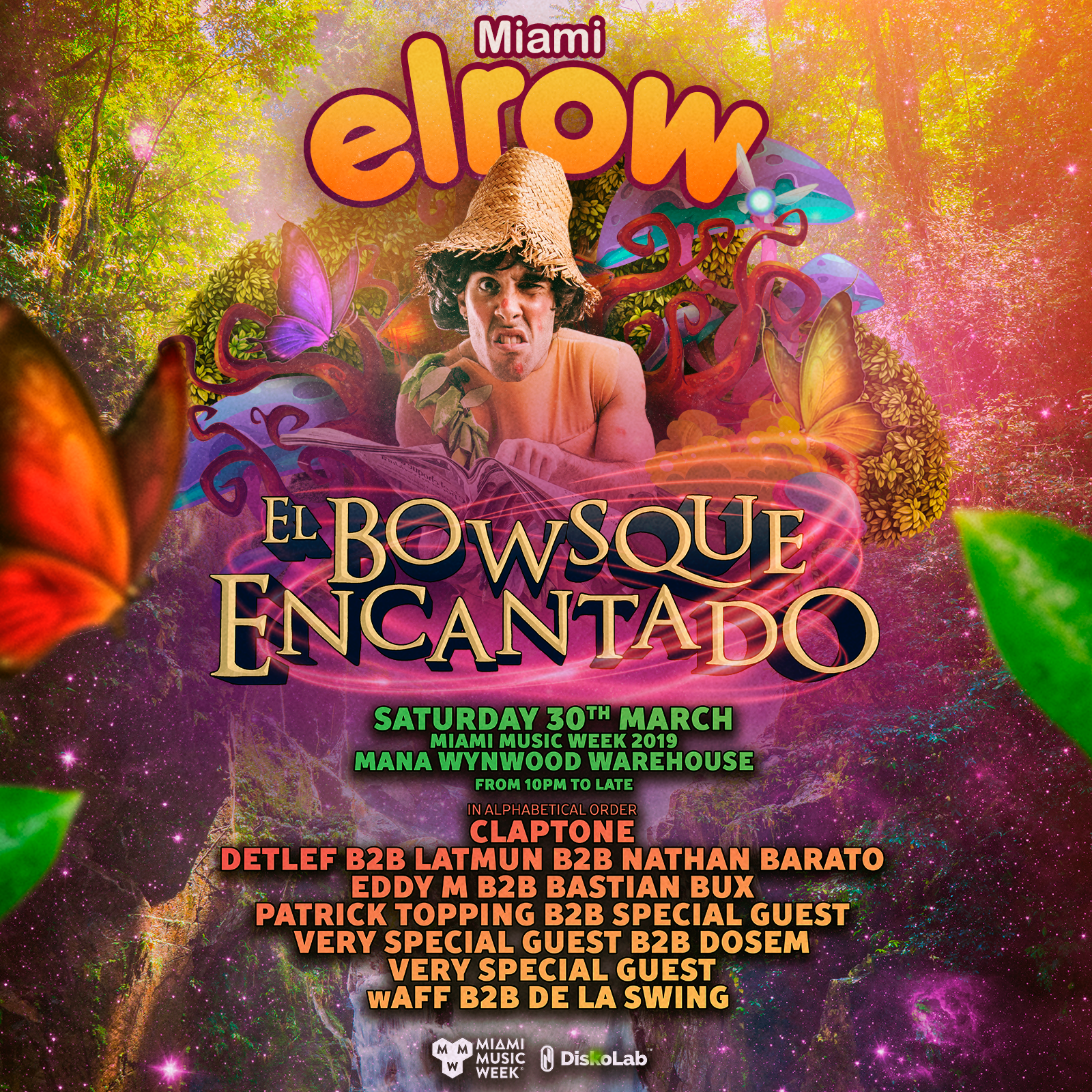 Elrow is a unique group that has hosted over 150 shows in 26 countries all over the world. They are bringing their show "El Bowsue Encantado" or Enchanted Forest to Miami Music Week. According to the event's website guests are in for a real treat. "Get ready to be watched by huge trees, to dance with beautiful creatures and laugh uncontrollably until you turn into some fantastic being. Watch out for the apparitions of dark beasts and demons who live in the shadowlands…the most terrifying part of our forest. Jump into the inexplicable lost time zone, create your own world in the elrow forest, our enchanted realm where the music is simply otherworldly!" The Mana Wynwood will be transformed for an event unlike any other. 

While the line up has been released, the night is sure to be full of surprises as a "Very Special Guest" is listed three times. So far the official bill is as follows: Claptone, wAFF b2b De La Swing b2b Nathan Barato, Detlef b2b Latmun, Dosem b2b Very Special Guest, Eddy M b2b Bastian Bux, Patrick Topping b2b Very Special Guest, and Very Special Guest. You can find tickets here.
Carnage Presents Papi's Playa – Sunday, March 31
He's big, back, and better than ever. Carnage is FINALLY returning from his personal break from music and trap lovers couldn't be happier. Miami Music Week will host his first two appearances since his return. Papi's Playa is the second of Carnage's Miami events and will be taking place at the SLS Hotel starting at noon. 
The party is bound to be wild, loud, heavy, and filled with surprises. Consider Carnage's last performance at Ultra 2016 when he brought out DJ Khaled, Rick Ross, Wiz Khalifa, Rae Sremmurd, and iLoveMakonnen. HUGE! We know, and can only imagine who might show up this year. Last year Carnage surprised fans by appearing with DJ Diesel (Shaq), Steve Aoki, and A-Trak. If you aren't convinced by these names trust us when we say Papi's Playa will be a playhouse filled with fun, heavy hitters, and an incredible production.
Tickets are selling quickly so make sure to purchase yours here.The event is for 21+ only. If you can't catch this event check out Heavyweight Presents: Hell featuring Carnage's Reincarnation Tour on March 30 at the C&L Warehouse.
Carl Cox Presents His Disco, Funk, and Soul Event – Sunday, March 31st
As mentioned above, the Basement is an extremely unique venue combining a club, bowling alley, and ice skating rink. Sunday night Carl Cox will take the Studio 54 vibes to a whole new level with his Disco, Funk, and Soul Event. 
You can get a feel for what this rare set from Carl Cox sounds like below:
There are 100+ events going on during MMW that you can catch and vibe to all night long. If you can't make any of our top 10 check out the list of all events at the official Miami Music Week Website.