Photo Taken From Beyond Wonderland Website
As Festival Season approaches, Beyond Wonderland aims to start off the festival season with a bang. Into its 9th year and running, Beyond Wonderland never fails to exceed expectations. This year Insomniac is bringing out the biggest and best talent from across the world. Slated for March 22nd-23rd, this festival is slated perfectly for a nice cool breeze in sunny SoCal. The festival will feature 5 different stages, including the visually mind-boggling Queen's Domain and Mad Hatter's Castle. Check out the lineup set to hit the NOS center in two months.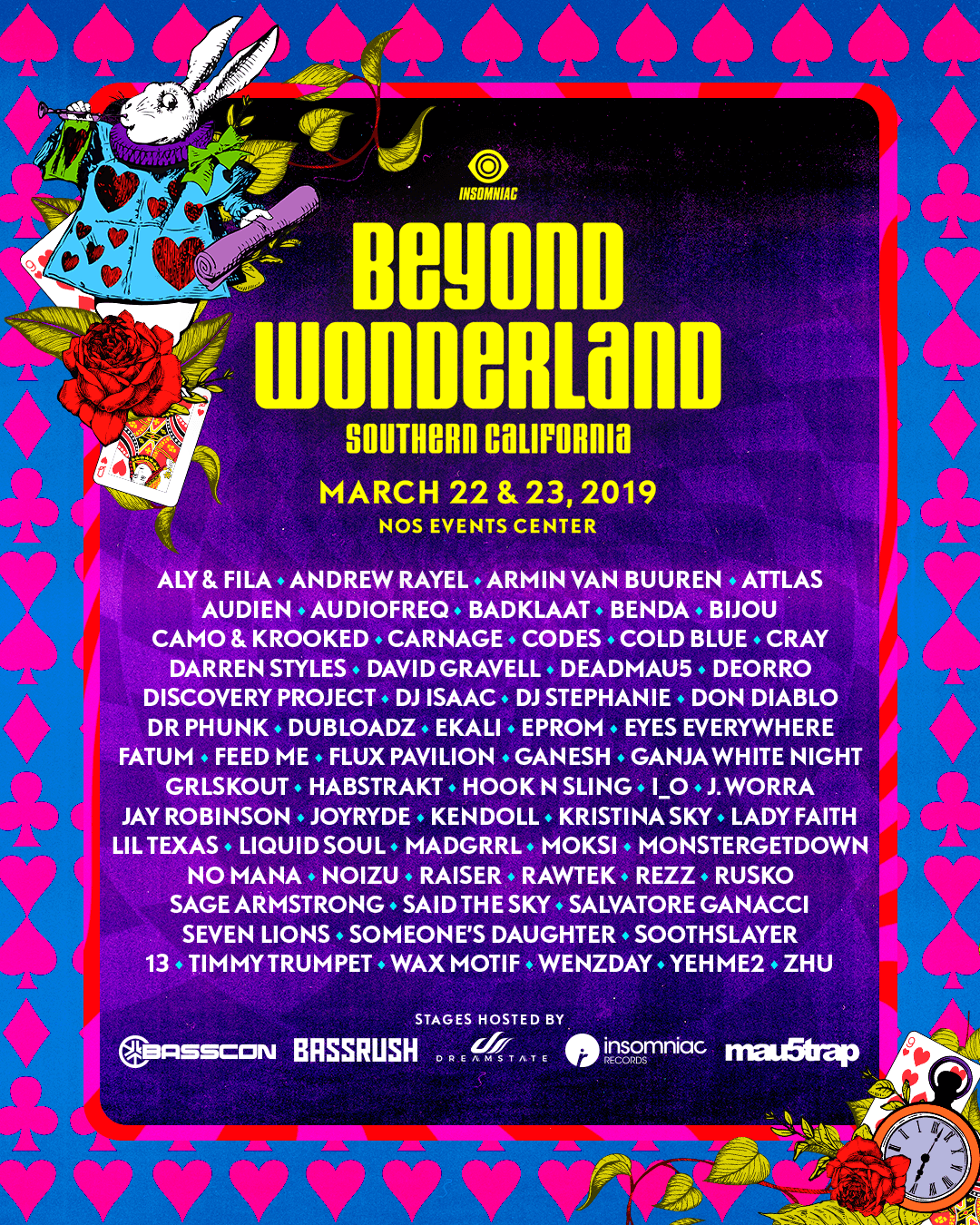 This lineup boasts everything from longtime favorites like Deadmau5, Feed Me, and Seven Lions, to rising stars like REZZ and Ekali. For many, this may arguably be one of the best lineups of the year! Check out some of our favorite tracks from the artists below.
Seven Lions
Seven Lions is no stranger to the NOS grounds, returning back to back years to play at Beyond Wonderland. Last year he blessed the crowd with one of the best sets I have ever seen in my life. The energy he brought to the stage was so electrifying, it had the crowd in a frenzy. Jeff has been exploring new sounds which makes his sets exciting every single time. Make sure that his set is a must-see on your list this year! 
Camo & Krooked
Hailing from Vienna, Austria, Camo & Krooked single-handedly changed the game for Drum & Bass with their innovations in progressing the genre through creative liberties. The duo has been tearing up the scene since 2007, gaining massive popularity in the DnB scene around 2009, the duo has seen continuous success throughout their career. This will not be their first time at Beyond Wonderland either. This insomniac is truly special since it seems to attract artists back to play another set.
REZZ
I would be remiss if I didn't mention space mom herself. Taking the universe by storm. Isabelle AKA REZZ has grown her brand tremendously over the past couple of years. By continuing to at the forefront of her own sound, and coupling it with the trippiest and darkest visuals possible, REZZ has grown into one of the biggest powerhouses in the industry. Her sets have never disappointed. If you haven't had a chance to see REZZ live, or even if you have, I highly recommend catching her set at Beyond Wonderland. 
See you in San Bernardino, CA March 22nd-23rd. Get you tickets here!