Returning for its 8th year, Beyond Wonderland is just around the corner, and the phase 1 lineup has finally come into view. This year's lineup is bigger and better than ever before! This two day EDM festival located in Southern California's San Bernardino is fast approaching, mark your calendars for March 16th and 17th. The NOS center will host 4 mind boggling stages, multiple breathtaking art installations, and an Alice in Wonderland theme that will have you lost in Wonderland! Check out the lineup below!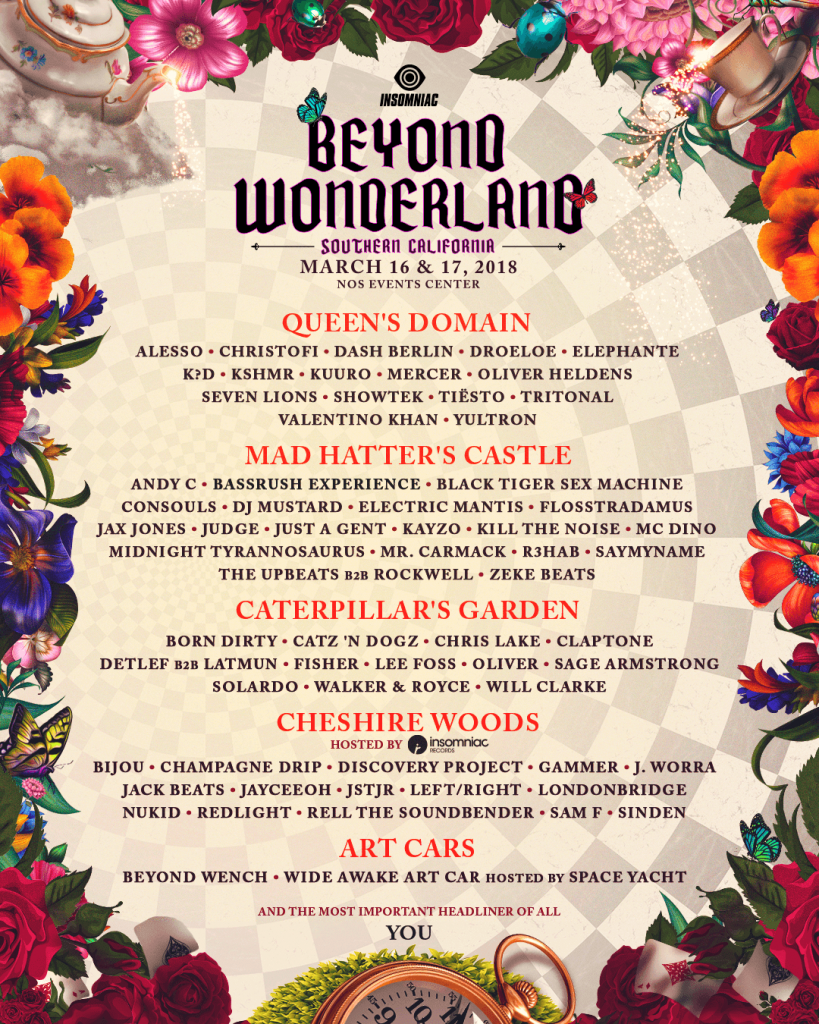 This lineup boasts a wide variety of EDM genres, with everything from Seven Lion's emotionally inducing melodic dubstep, to Chris Lake's dirty deep house. Everyone will find artists suited to their interests at this years Beyond Wonderland. For those who have not had the pleasure of going down the rabbit hole, this is the time to do it! Here are some songs from our favorite artists on this years incredible lineup!
K?d (pronounced kid) has shaken up the future bass genre to its core combining classic hits with a new innovative sound that resonates with the listener. K?d's unique approach to music is not only refreshing, but also extremely exciting! However, the hype for K?d does not stop there! K?d's live performance is one that you cannot miss. His visuals, and live edits come together to create an undoubtedly exhilarating experience. Find him as you trek through wonderland into the Queen's Domain!
We here at Festival Goers cannot get enough of up and coming artist Yultron. After touring with Marshmello, Yultron is making his way to Wonderland, where things will get mad! Yultron's dirty grimy dubstep and trap is the best in the business. By combining the best elements of the two genres, Yultron has created a style of his own that keeps the listener on their toes!
Alaskin Born artist Electric Mantis has made a profound impact on the electronic music scene. Electric Mantis combines a myriad of youthful sounds with creative drops, each track has a significant amount of depth, as he often uses hundreds of automation clips to create musical variations that are often unexpected and well received. Electric Mantis's signature sound can only be described as nostalgic, since it often carries synths reminiscent of old video game tracks. Be sure to find him at the Mad Hatter's Castle!
For those who love the sounds of San Holo, look no further! Droeloe, a duo from the Netherlands, have just the sound you may be looking for in Wonderland. Droeloe, signed to San Holo's record label Bitbird, are certainly a diamond in the rough. The Netherlands based duo have versatility and consistency throughout their catalog of tracks. The most pronounced thing about their music is their masterful production. Droeloe often uses using a blown out compressed bass with well thought out melodic melodies and synths, with complex arpeggios and harmonies. Their sound never feels muddled, even though there are multiple sounds existing in the same space. By infusing melodic beats, with catchy drum patterns, both their mellower tracks, and their uptempo tracks are exciting to listen to. Check them out in the Queen's Domain, they will not disappoint!
See you in San Bernadino, CA March 16th-17th. Get your tickets here!