Photos by Danica Nuestro for Festival Squad (unless stated otherwise)
As far as I can remember—through interviews, media posts, or people that I meet at different events—one thing has always been the same. Festivals are their escape from reality, where people can truly express themselves and share their love of music with one another. Here at LOVELOUD, their escape is also their safe space. A home away from home, you could say. The third edition of LOVELOUD concluded on June 29 and I can still feel the love and unity from this event. As a stranger to Utah and my second time traveling here, Utah has always welcomed everyone with open arms for a festival like this.
New Year, New Venue
Last year's LOVELOUD was held at the Rice Eccles Stadium. This year, it was moved to Usana Amphitheatre and proved itself to be a positive move. Usana brought in more people, shaded areas, gender-inclusive restrooms and more. Compared to California, Utah's weather was pretty up there in terms of the heat. But that didn't stop attendees from coming in when doors opened. As I was entering, there was a sea of people lined up waiting to get inside Usana at both plaza entrances. Attendees were able to check out the vendors and organizations set up outside the stage before the first act came on. Some booths I saw were the Tegan and Sara Foundation, encircle, the Trevor Project, Human Rights Campaign and more.
A Lineup that Delivered
LOVELOUD had incredible performances all day long, despite early and last minute changes to the lineup. Earlier this year it was announced that Grouplove was no longer able to perform. In addition, Martin Garrix had to pull out due to an injury from a previous performance, just a month before the festival. With these changes, AJR was added to the lineup. With the many technical difficulties that occurred during their set, they improvised and delivered. They kept high energies amongst the crowd all set long. They were definitely one of my favorites of the night. Other standout performances include PVRIS, Kesha, DAYA and more.
More than Just the Music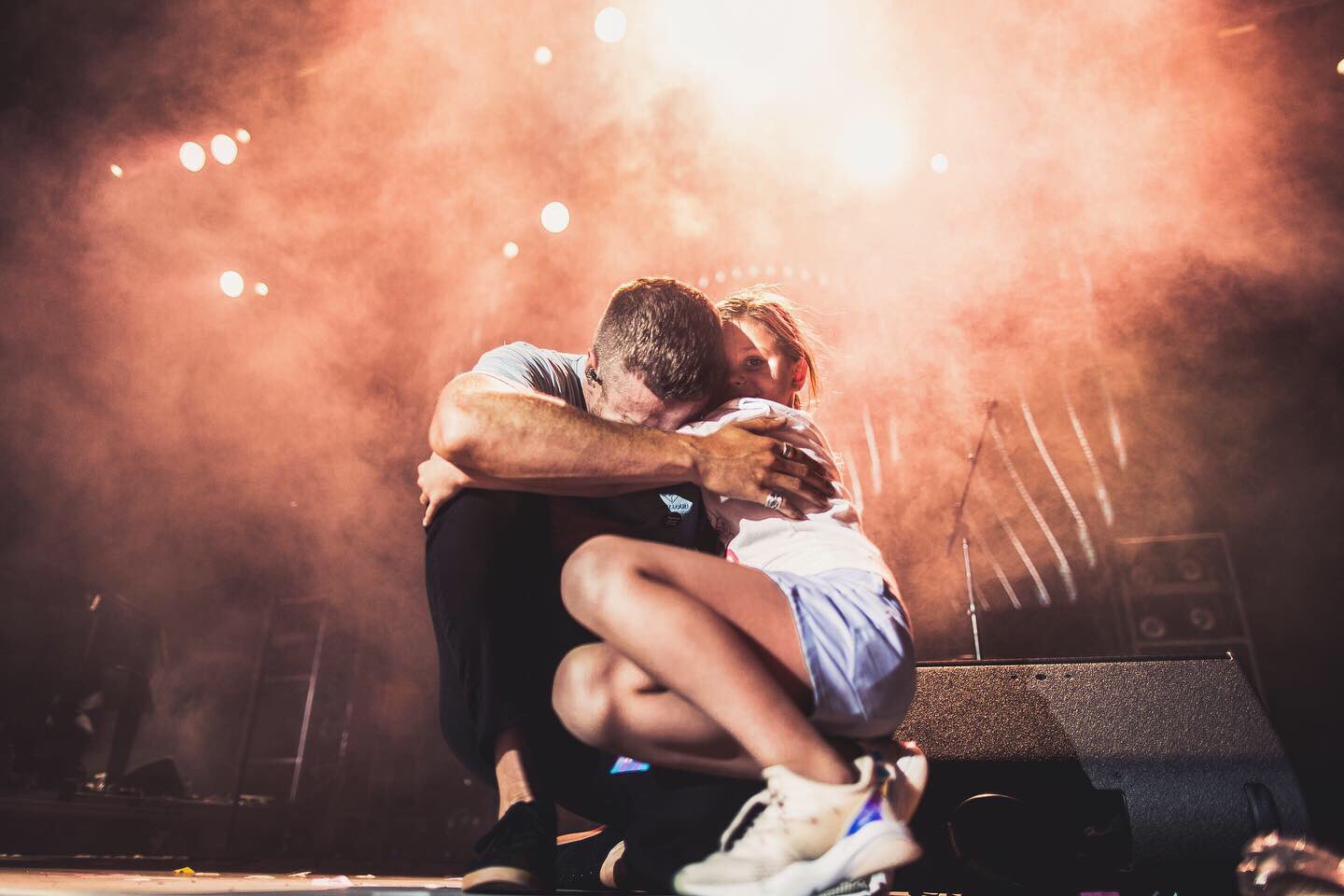 Now what sets this festival apart from many others are the special guests and appearances set up throughout the entire festival. This year, Dan Reynolds and the LOVELOUD team were able to bring some inspiring special guests. Some speakers include Aja Volkman, Tyler Glenn, Matt Easton, Emma Gonzales and many more. These special guests bring light onto important topics such as suicide rates in the LGBTQ+ youth communities, encouraging coming-out stories and more. Having these speakers and performances in between sets were incredibly important. To me it emphasized how LOVELOUD is a safe space for these attendees. These speakers and artists support them and fight for them, and ensure that there's always a space for these attendees in this world. These speakers, these role models, encourage attendees that there's no shame in showing their true colors.
LOVELOUD is "a feeling; it's a community coming together and rallying together to change statistics, and that takes everybody."

Dan Reynolds, Deseret News
What also makes this festival so important to attendees is how much these artists and curators care for the LGBTQ+ and the serious issues within their community. Founder of LOVELOUD, Dan Reynolds, truly deeply cares about these people. He advocates for those who have been hurt from people outside or against LGBTQ+ communities. From those who have been bullied, or were kicked out of their safe spaces, to those who have even committed suicide due to lack of support. The people, especially the youth, are his driving force for why he uses his platform as an artist to support them and fight with them.
So for those who have never heard of LOVELOUD, what exactly is LOVELOUD?
LOVELOUD. It isn't just another festival with amazing artists. LOVELOUD isn't just another event to reunite with friends or make new ones. It is just another place to make new memories. Whether you traveled a mile to the venue or traveled thousands of miles across the country, LOVELOUD is home. LOVELOUD is their safe space where they feel belonged.
LOVELOUD has now completed its third year in the festival circuit, and it's not going away any time soon. We're excited to see how LOVELOUD will continue to grow and be an supportive ally for these communities.