Governors Ball Music Festival is back at Randall's Island Park in New York City for its 9th year celebrating music of all genres in one massive weekend. From May 31st to June 2nd, Founders Entertainment will continue the trend of providing east coast music lovers a festival for all—celebrating a weekend with great music, fabulous art, amazing food and so much more.
Presenting…the 2019 GovBall Lineup
This year's lineup is stacked with major artists performing each day, so if you're only able to attend one, any day you choose is well worth attending.
Day 1 includes artists Tyler, the Creator, Brockhampton, Gesaffelstein, The Voidz, Cautious Clay, and Still Woozy.
Day 2 includes Major Lazer, The 1975, Zhu, Playboi Carti, Clairo, Elohim, Dreamers and more.
Day 3 does not disappoint with artists like The Strokes, Louis the Child, Beast Coast (the Joey Bada$$ and Flatbush Zombies collaboration), Bazzi,  070SHAKE, Jack Harlow, and more.
Schedule + Set Times
Of course, you definitely need to know when your favorite artists are playing. Luckily for you, GovBall's set times are finally here! To make things easy, we've included the daily schedules below so you can start planning out your weekend.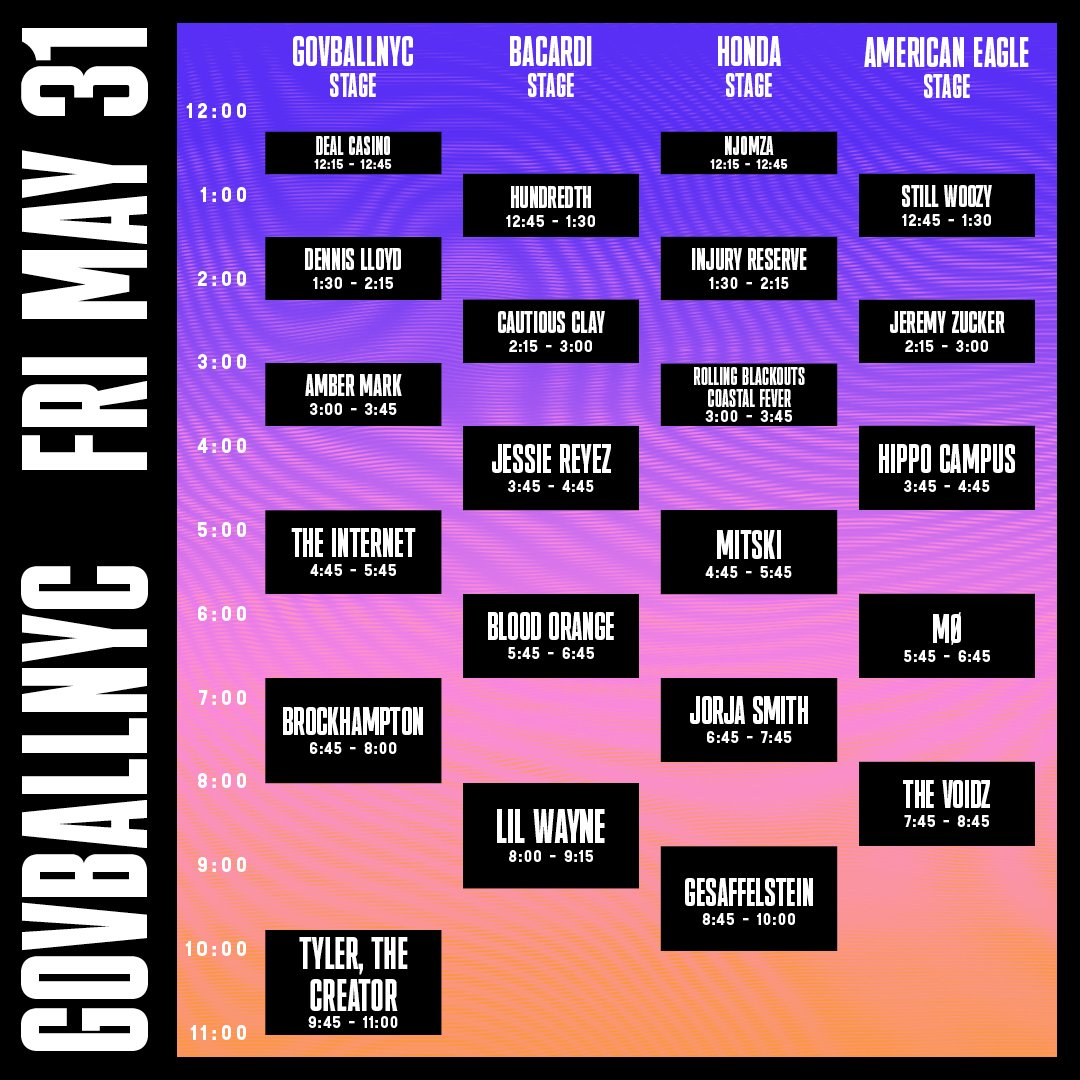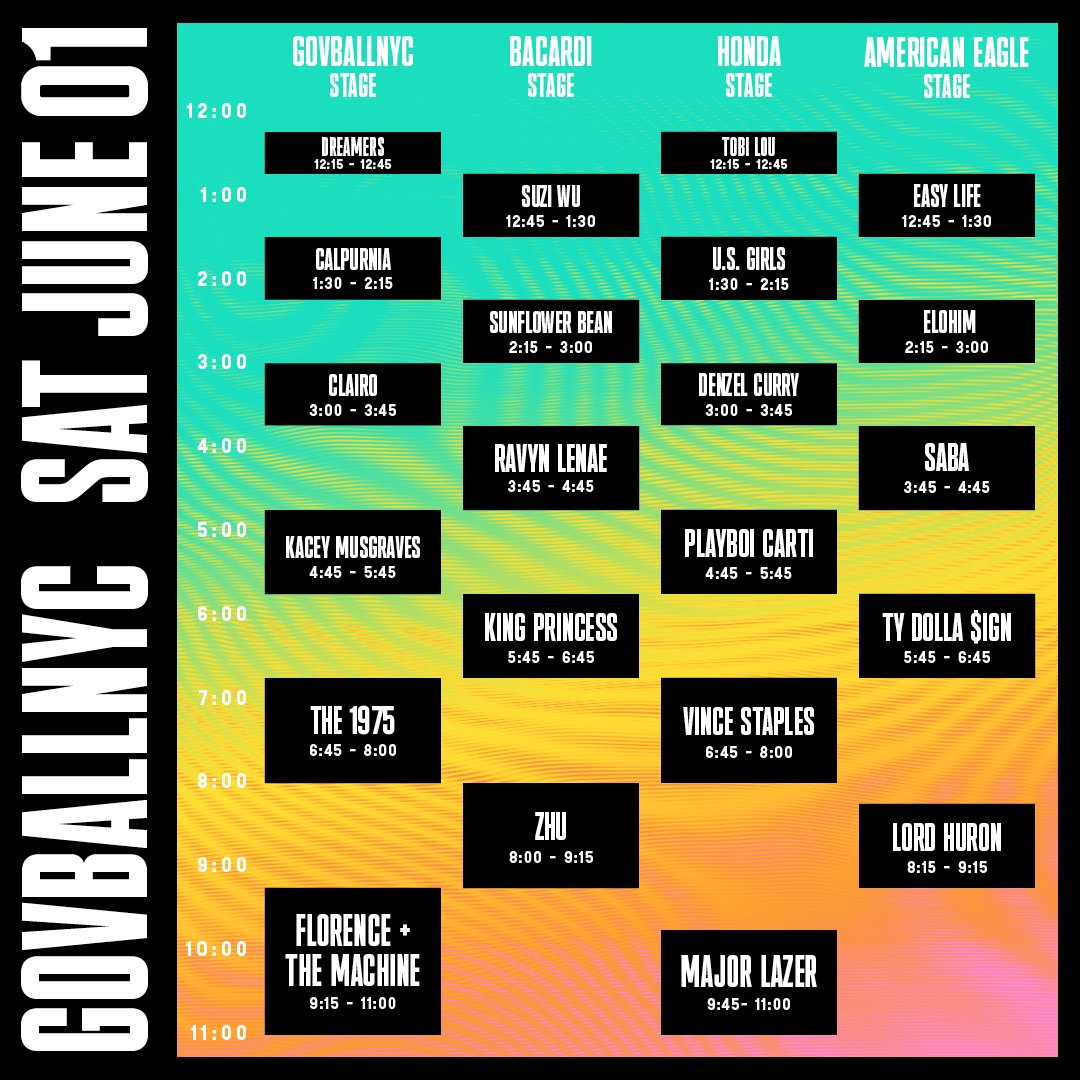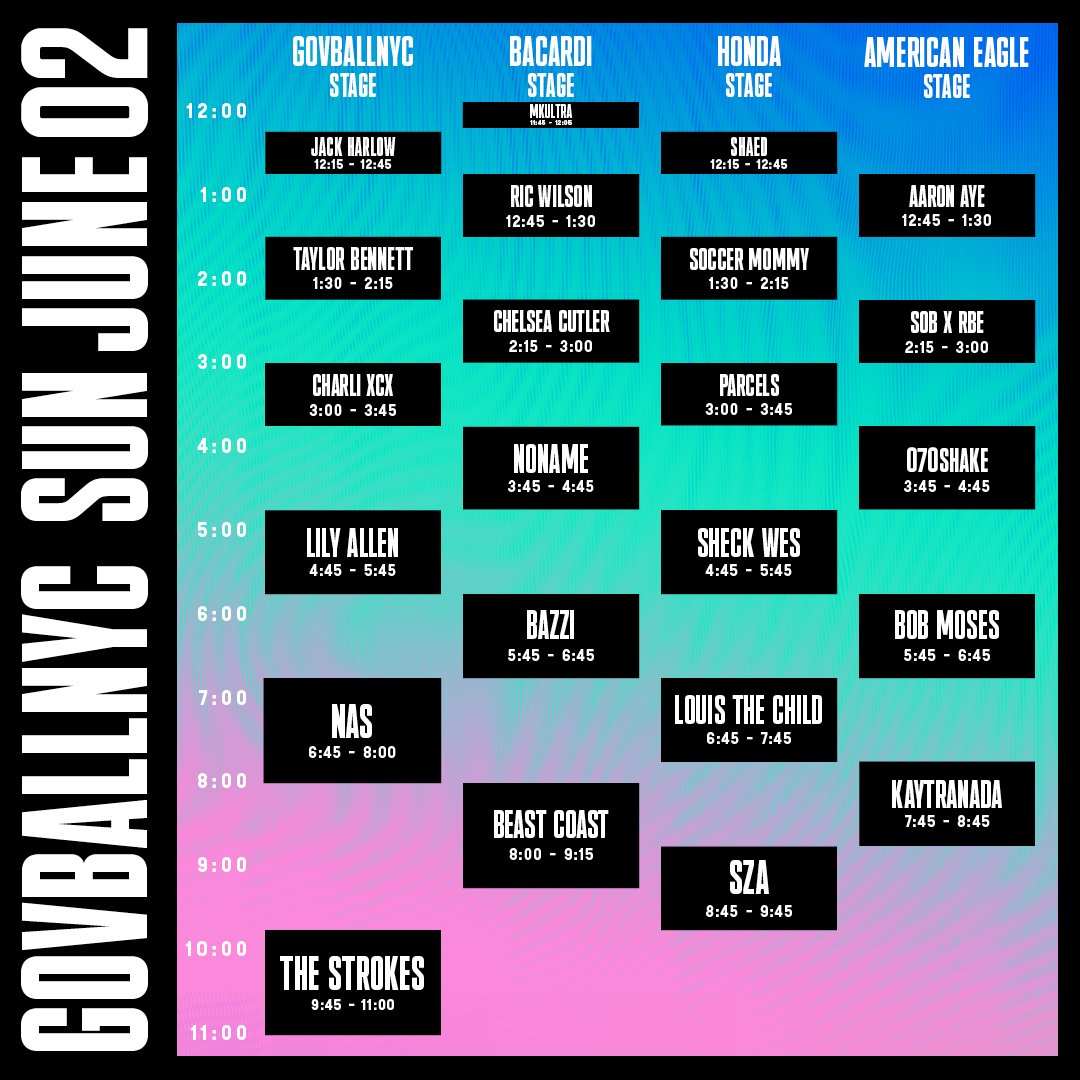 Have any scheduling conflicts? Welcome to the club.
Better start mentally preparing yourselves….Will you be sacrificing one artist for another? Or will you show off your stamina and try to make it to both?
…or you can leave it to Twitter to help you decide on who to see that weekend.
Will we be seeing you at GovBall? Or…under?
Tickets + More Info
GA, VIP Passes, Suites & Cabanas
3-Day as well as single day passes are still available for purchase here! General Admission passes start at $115 for single-day passes and $305 for 3-Day GA. Regular VIP ($255 for single-day, $705 for 3-day) includes all-access VIP viewing areas with a separate festival entrance lane, premium bathrooms, specialty vendors, charging stations, for-hire massage services, as well as a bar. VIP Plus passes ($700 for single day, $1950 for 3-day) include all regular VIP offerings in addition to exclusive, elevated viewing areas at the main stage, comfortable lounge areas, and more. Platinum passes include on-stage viewing where you can be super close to several performing artists, exclusive front-of-house viewing areas at all four stages, access to the backstage open bar, food vendor tokens and more. Luxury Suites and Cabanas, which are the most VIP of all VIP experiences, are also available for booking at the festival by contacting [email protected].
Transportation
For transportation, Gov Ball offers Shuttle passes and Ferry rides to and from the festival starting at $26. For those who are staying or are from Brooklyn, shuttles will be the easiest transportation option! Shuttles will be picking up from Macri Triangle in Williamsburg, providing round-trip access to get you to the venue and back. Ferry rides are best available for those staying or who are from Manhattan. Ferry rides will be departing from 34th Street and FDR Drive and will be running throughout the day.
Not convinced? Check out this Gov Ball Film below to change your mind and we'll see you at the end of May in NYC!